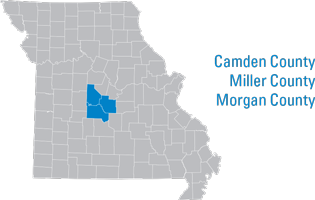 We Are Your Liaison to the Lake of the Ozarks Community
The Lake of the Ozarks is a diverse area that has an excellent business environment and outstanding "quality of life" attributes. However, it needed a cohesive and cooperative effort to sell these advantages to potential business and industry. As a result, the LOREDC was formed to promote a regional approach to marketing the Lake Area. LOREDC consists of communities within a three-county region in Central Missouri – Camden, Miller, and Morgan.
LOREDC is committed to serving the business community. Professional staff and experienced economic development representatives are available to assist with whatever challenges businesses encounter. Whether a business is new or expanding or just needs assistance, the Lake of the Ozarks Regional Economic Development Council will help. The group is striving to be a results-oriented team, committed to matching business needs with the best possible location and services with a creative financing package that helps companies with their bottom line and gain a competitive edge. Some services available include site and facility tours, research, financing, customized proposals, regulatory agency assistance, government liaison, workforce training and development, and business advocacy.