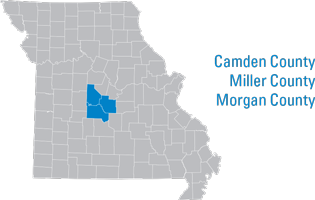 Lake of the Ozarks Workforce
The Lake of the Ozarks Market Region is made up of Camden County, Miller County, and Morgan County Missouri. The Lake of the Ozarks Market Region has a population of 89,727 and the population has had steady growth (3%) over the past ten years while the population of the State grew by 4% over this same time period. The Working Age Population of the Region is almost 61,000 (ages 15-69), which is 68% of the Region's total population.
Employment in the Region is almost 31,000 in 2016 and it has declined significantly (12.7%) since 2006. Over the next ten years, employment in the Region is projected to grow by 2.7%, which is below the 5.5% growth projected for the State. The Region's three largest industry sectors are:
Retail Trade – 5,722 jobs
Government – 4,554 jobs
Accommodation & Food Services – 4,122 jobs
The Region's Earnings per Worker ($35,130) is significantly lower than the Earnings in the State ($53,518) and the Earnings nationwide ($60,873). The highest paying industries in the Region are Utilities, Finance & Insurance, and Health Care & Social Assistance. The industries with the highest Location Quotient, which is a measure of regional industry concentration, are Retail Trade, Construction, and Utilities.